Preview: Halloween Horror Nights
September 11, 2007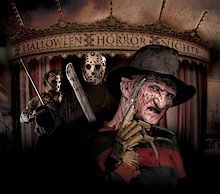 The only thing that'll be running warmer than a fall day in Hollywood will be blood when Universal opens their black metal gates to the public for the studio's annual fright fest known as the
Halloween Horror Nights
running October 5-6, 12-13, 19-20, 26-28 and 31. Per usual, nerves and gag reflexes will be put to the test as attendees cautiously stroll through the park's labyrinthine walkways teeming with hired costumed "scare actors" - whose business is, well, to scare the shit out of
you
- and themed mazes. But unlike previous fear years, Universal has called over some of New Line Cinema's bogeymen for an extended sleepover; now the Wolf Man, Dracula and the Frankenstein monster will be joined by foes with sharper accoutrements for slaying like Freddy Krueger, Jason Voorhees and Leatherface from
A Nightmare on Elm Street
,
Friday the 13th
and
The Texas Chainsaw Massacre
, respectively.
Today, ShockTillYouDrop.com meanders through the unassuming, astonishingly clean "streets" of Universal Studios where the brilliant morning sun casts the usual happy-happy fun time glow on the usual attractions celebrating Hollywood magic. It's before business hours and the hungry tourist horde have yet to flood the park like the running of the bulls. Most of the action this morning is happening within the Fear Factor auditorium where some thirty actors of varying sex, race, height and build sit in the bleachers eyeing a chalk billboard reading "Chainsaw 101." Sitting stage left and right, Leatherface's wet dream: a meticulously placed line of bone-cutting, flesh-splitting chainsaws - "de-fanged" (or
sans
the actual chain), of course. Welcome to the Chainsaw Academy, where Universal's hired hands will get friendly with their power tools.
"People are concerned scaring people with a chainsaw may be simple," sneers a black-adorned Universal employee, microphone in hand. He'll later describe the chainsaws on hand with the air of a car salesman mixed with the bravado Bruce Campbell gave Ash. "Well, it is, but there are certain techniques needed to maximize that effect - y'know what I'm talkin' about people?" The procession below howls like a pack of sleazeballs at the local Deja Vu strip club. "Well, the buzz is back here at Universal!" their team leader bellows before calling the troupe up on stage. They leap from their seats scrambling for a chainsaw of their own. Some immediately try to fire them up.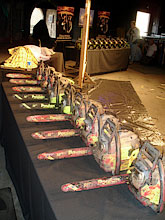 The air crackles with the familiar sound that gets most horror hounds hard. Nostrils flare at the smell of exhaust. For the next few hours, this bloodthirsty group is going to be pushed through training exercises, from proper chainsaw wielding to lurching 'n lunging to marching in unison, occasionally sliding side to side like Paula Abdul backup dancers. A fellow comes out and shows them proper carving methods on a life-like styrofoam victim. Blood leaps from its torso as the
very real
chainsaw makes quick work of this display.
Monitoring the events from a few tiers up stands John Murdy, Creative Director of Universal Studio's Hollywood - a foreman overseeing his future butchers today. If the television doctor known as House had a horror-lovin' brother, Murdy might be it. They share a similar tall stature and requisite cane; in Murdy's case, it's a replica of Talbot's wolf's head cane from the 1941
The Wolf Man
- a present from his wife...which makes Murdy all the more cool. He knows his shit and isn't afraid to show it when it comes to classic horror, especially Universal's broad history. The love he holds for the genre is what's been fueling his eighteen-year stay at the studio.
Murdy began in the haunted attraction biz at the age of ten, entertaining the neighborhood kids with his antics during Halloween. "We've never done this before," he tells us, sipping coffee and commenting on Horror Nights' recent pairing with New Line. "When you think about the horror genre, Universal owns classic horror - we kind've invented the American horror movie, but when you look at the 1980s on up, New Line has the new icons of horror, Freddy, Jason, and Leatherface, so it was a marriage made in hell for us."
"You're not going to see Freddy hanging out in the street saying, 'Boo!' we're going to treat these characters with a lot of respect," he adds. "In the case of Jason, of course, we're going to take you to Crystal Lake. For Leatherface, we're going into the Hewitt house and the Blair Meats Factory. For 'A Nightmare on Elm Street,' the twist is a bit different. We're going to take you into Westin Hills, the asylum where Freddy was conceived and born. But of course, since there are dream sequences in those films we're able to take you into the boiler room and right now we're building a roach motel."
He emphasizes that last tidbit with a smile, pleased by my reaction that they're going so far as to recreate some of the "Nightmare" sequels' finer moments. "The temptation to creatively build something new does a disservice to the franchise. There's a reason why these films have been so popular over the years. So it's our job to get intimately involved and knowledgeable about these films and pick from the sequels what we think would work in a Halloween environment and try to deal it in a cinematic way."
And what of the studio's stalwart oldies? Well, expect to find them in Universal's House of Horrors, a fortress once home to the park's "Van Helsing" attraction. "It takes the entire genre from 'Phantom of the Opera' 1925 to the Chucky films of the 1990s. You go in to the lab from Frankenstein, you go into the Wolf Man's forest. We pretty much hit all the different environments including the fruit cellar from 'Psycho.' We try to pay tribute to all of the great properties."
Another carry-over from last year is the Terror Tram that allows visitors to tour the backlot. Murdy says they've even kicked that up a bit. For example, instead of riding
by
the plane crash set from Steven Spielberg's "War of the Worlds," passengers on the tram will now get to explore it themselves.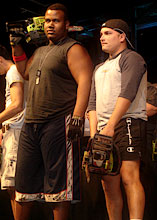 Added touches like these are Universal's attempt to compete with the thrills audiences can easily find in today's overt cinematic horror climate which has come a long way from the James Whale and Tod Browning days of directing. "As you see in movies like 'Hostel' and 'Saw,' as the gore gets amped up, we have to amp up our gore as well so we're doing a lot of special FX you wouldn't normally do in mazes," comments Murdy. "We want to not only scare the hell out of you but we want you to feel like blood is being shot on you. In the case of 'Friday the 13th' there's this great moment where Jason crushes this guy's head and his eye pops out, we want eye goop to squirt at you. When we were working on Old Monty from 'Chainsaw,' we were like, Hey, he's got a colostomy bag, let's squirt it on people! Certainly within the last five or six years, horror films have gotten more and more extreme, so we have to get more and more extreme."
To buy tickets to this year's event, click
here
.