Update: Francis Lawrence Would Do Constantine 2
Source:Ryan Rotten
November 30, 2007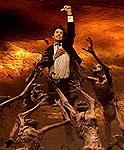 Director Francis Lawrence told us today at the
I Am Legend
junket that he would love to helm a
Constantine
sequel. He said that the sequel will depend on them finding the right story.
In a one-on-one interview with ShockTillYouDrop, Lawrence added a follow-up could be a sequel or a prequel.
"I like origin stories, that would be cool. What worked for me is the film came from the 'Dangerous Habits' storyline - he had cancer and he was dying. To me that was the core of the story. It's why the movie works for me, because the story couldn't be more personal. People have thrown concepts around [for a sequel] and I go 'Why does he give a f**k?' In the first film he's trying to save his own skin. Everything else, you can come up with these stories where he goes to different lands and fight the bad guys or witch doctors, but I think it all falls flat. Until someone comes up with a great idea, whether it's earlier [in his life] or later, we'll just have to see."
2005's
Constantine
, which starred Keanu Reeves, Rachel Weisz, Tilda Swinton, Gavin Rossdale, Djimon Hounsou, Shia LaBeouf and Peter Stormare, earned $230.8 million worldwide.
Based on the DC Comics/Vertigo "Hellblazer" graphic novels, the film starred Reeves as John Constantine, who was born with the ability to recognize the half-breed angels and demons that walk the earth in human camouflage. Constantine was driven to take his own life to escape the tormenting clarity of his vision. But he failed.
Resuscitated against his will, he found himself cast back into the land of the living where he patrols the earthly border between heaven and hell, hoping in vain to earn his way to salvation by waging war on the earthbound minions of evil.