Film Database
Halloween (2007)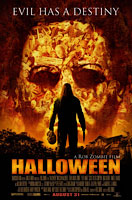 Release Date:
August 31, 2007
Studio:
Dimension Films
Director:
Rob Zombie
Screenwriter:
Rob Zombie
Starring:
Tyler Mane, Sheri Moon,
Scout Taylor-Compton
, William Forsythe, Malcolm McDowell, Danielle Harris
Genre:
Horror
MPAA Rating:
R
Official Website:
Halloween-themovie.com
Review:
6/10 rating
DVD Review:
Not Available
DVD:
Not Available
Movie Poster:
View here
Production Stills:
View here
Plot Summary:
From acclaimed musician and filmmaker, Rob Zombie ("The Devil's Rejects," "House of 1000 Corpses") comes an entirely new take on the highly successful and terrifying Halloween legacy that began in 1978. While revealing a new chapter in the established Michael Myers saga, the film will surprise both classic and modern horror fans with a departure from prior films in the Halloween franchise. Audiences should brace themselves for unprecedented fear as Zombie turns back time to uncover the making of a pathologically disturbed, even cursed child named Michael Myers.
Teaser (4.11.07):
Windows Media Player
TV Spot #1 (7.30.07):
Theatrical Trailer (8.1.07):
Windows Media

TV Spots #2 - 4 (8.15.07):

Flash Player
"Behind the Mask" Featurette (8.21.07):
Flash Player
Five Clips (8.21.07):
Rob Zombie Video Interview (8.27.07):