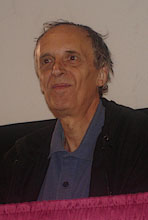 Over twenty-five years have passed since the second chapter in Italian auteur Dario Argento's Three Mothers trilogy unraveled. 1977's unpleasant and abstract trip through the world of witchcraft in
Suspiria
paved the way for the equally colorful, gleefully violent
Inferno
in 1980 - both of which introduced audiences to the Mother of Whispers and the Mother of Darkness, respectively. This October,
Mother of Tears
, Argento's long-awaited finale debuts at the Toronto International Film Festival and in Italy the following month.
Even with the noticeable onset of a cold, Argento was kind enough to grant ShockTillYouDrop.com some time to sit down and talk about "Tears" at the Rue Morgue
Festival of Fear
. A gaunt but animated creature, he wears slacks, a dark zip-up sweater and collared shirt. During our all-too-brief conversation, his English delves into mere sounds and hand gestures to evoke a feeling - making us wish we brushed up on our Italian for a deeper rapport. At times he pauses to take in the odd sites around us - kids dressed in anime costumes or "walking advertisements" - hired hands with televisions strapped to their shoulders playing commercials for "The Family Guy." We wonder what this must all look like through his dark, questioning eyes...this level of fan-like dedication. But then again, it was two writers and their reverence for Argento's works that helped bring
Mother of Tears
to fruition.
Speaking first of the inciting factors that got "Tears" to roll, Argento says it was neither the "right time" nor the demand from his fans that spurred inspiration. "The idea arose from the story I had first. Then I met the right people like writers Adam [Giersasch] and Jace [Anderson]." Gierasch and Anderson, each hardcore
giallo
fans in their own right, previously penned Tobe Hooper's
The Toolbox Murders
. "Working with them was a very natural process. The director needs something like an intuition and they had an infectious enthusiasm. This is the reason I chose them, because I understood in their eyes that they want to do something with the film and my story. I was just happy. We met in Los Angeles during the editing on [the "Masters of Horror" episode] 'Jenifer', then they both came to Rome, we worked together and wrote the screenplay."
Modern day Rome falls victim to the film's eponymous witch (
Mater Lachrymarum
) when she is unwittingly released by an art student. Argento called upon a number of familiar faces from his previous efforts to co-star including Coralina Cataldi-Tassoni, Daria Nicolodi and Udo Kier. In the leading role? His daughter Asia who has appeared in previous Dario flicks like
Trauma
,
The Stendhal Syndrome
and
The Phantom of the Opera
. Their history of collaborations have raised eyebrows; since "Phantom," Asia has gone on to become a director in her own right.
"From the beginning I knew Asia was going to be in this," Argento says. "Every day she helped me with a lot ideas. She's a director so she brought some good ideas to the table, she was a great collaboration. She's changed now. For a long time I didn't work with her. I've see her grow up in front of me, from 13 to 16 to 20. I filmed all of these changes, now she's bigger. I'm seen her growth artistically and physically."
He has also watched his Three Mothers trilogy significantly expand. "The film is the biggest of the trilogy. The scope is big. The special [visual] FX from Lee Wilson in Vancouver...he has a good company. We have many special FX in the film, it's very different." Handling the practical side of the blood-soaked effects is vet Sergio Stivaletti whose Argento credits include
Phenomena
and
Opera
. Luckily, before our meeting, this writer witnessed some of the film's extreme kills, one involving a monkey acting as a harbinger of evil. "The monkey is good!" Argento exclaims when we tell him this. We agree...the monkey
is
good.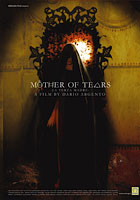 Two "Masters of Horror" episodes - "Jenifer" and the grisly "Pelts," featuring Meatloaf as a filleted horny hog of a man - primed Argento for the undertaking that was
Mother of Tears
. One gets the sense, especially by the end of "Pelts" that this conductor of crimson wetwork was reinvigorated by these exercises in small screen horror fare. "It was good because the producers gave me confidence and freedom," Argento enthuses. "I was free to invent anything I wanted. Nobody said, 'Careful, don't be too strong for TV because of the censors.' For the last fifteen years I've heard people tell me to be careful, and something profound touched me on [these episodes]. I didn't have censors. I was so flattered. In America I was so happy and strong and every day I was," he thrusts out his chest and squeezes his fists, head high and growling. "Just one time in 'Jenifer' did they have to cut - the penis and the oral sex. I re-discovered myself. When I started to prepare the Third Mother, I said, 'Now I'm changed, I come back to my roots I want to do something strong, don't say anything to me.' And the producers respected me. After fifteen years I feel very strong, I'm happy."
Argento is openly disparaging of early films
Four Flies on Grey Velvet
and
Cat 'O Nine Tails
, so we ask if there was anything he has done within that last fifteen years that disappointed him the most. "Maybe the 'Phantom of the Opera,'" he responds after a pause. "I did that film because it was the first horror film I saw in my life as a child. I was on vacation with my brother and I saw the 'Phantom of the Opera' with Claude Raines. I was impressed - very impressed - and I wanted to give homage to the film. Again, maybe I'd do it again different."
Contrary to some reports, Argento says
Mother of Tears
is not his final film and that he is not retiring.
Abruptly, the overhead lights cut out on our interview. "What is this?" Argento inquires, wide-eyed. Good question - I expect a black-gloved killer to sneak up and strangle us both with an electrical chord. Alas, nothing that exciting occurs. Just a power surge. The lights come on and the only scary thing I discover is one more anime fan dressed to the hilt as some dude with a massive cardboard sword peering through the doorway. For Argento, it's a full afternoon of interviews while nursing whatever bug he has.
For more on
Mother of Tears
' screening at the Toronto International Film Festival, click
here
.