Set Visit Preview: A Nightmare on Elm Street
Source:Ryan Rotten, Managing Editor
July 21, 2009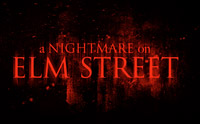 In June, this writer took a trip into a dreamscape. Not a picturesque vision of gorgeous women, classic rock and flowing beer (hey, I've got my fantasies, you've got yours). What I speak of is covered in soot, scratches, child-like drawings on stained chalkboards, candlelight, decay and infected with a maniac who creeps about in a red and green sweater, a fedora and a hand-crafted glove with imposing knives for fingers that has become as iconic as the man wearing them since both were introduced by Wes Craven in 1984's
A Nightmare on Elm Street
. For the first time in my career, I was on the set of a Freddy Krueger film. Granted, not an entry in the original franchise that I had nursed on during my budding years as a horror fan, but a picture that signals a fresh start for a new generation.
Behind this ninth outing for the bastard son of a 100 maniacs is Michael Bay, Brad Fuller and Andrew Form's production outfit Platinum Dunes (those behind
The Texas Chainsaw Massacre
and
Friday the 13th
) and New Line Cinema. And last month, both entities rolled cameras on
A Nightmare on Elm Street
with
Watchmen
's Jackie Earle Haley donning the role as Krueger - a character played for over fifteen years by Robert Englund - Rooney Mara, Kyle Gallner (
Jennifer's Body
), Thomas Dekker (
Terminator: The Sarah Connor Chronicles
) and Katie Cassidy (
Supernatural
).
"The thing our company has always strived to do is hire very visual directors to make [our movies] look a certain way,"
said producer Fuller during my visit to
Nightmare
's soundstage on the outskirts of Chicago. He's speaking of music video and commercial director Samuel Bayer, the man they enlisted to resurrect Krueger. Bayer's best known to the flannel 'n rock-lovin' generation for Nirvana's "Smells Like Teen Spirit" music video.
"The dreams [of this franchise] were certainly enticing to us. With a visual director you put that in the hands of someone who could do something amazing visually and it heightens what that movie is. For us, it was about finding the right guy to make those dreams feel amazing and more than anything has seen in the original films."
It was a taste of these dreams, and their settings, that I experienced as Fuller and Form led us set to set while Bayer worked closely with a rheumy-eyed Katie Cassidy wearing an outfit that was a knowing nod to Craven's original film.
As we strolled through the surreal environments, the Dunes boys equated their take on the latest
Nightmare
to 2003's
Chainsaw
and are hesitant to use the word "remake." Unlike their bout with Jason Voorhees earlier this year, this
Nightmare
film doesn't cherry pick "best moments" from the franchise and recreate them. This is a no-nonsense, re-imagined take on Krueger.
"He's not funny, he's a f**ked up guy,"
Fuller warned us.
I'm still under embargo from going into any close detail regarding what I saw the night of the visit, however, I can tell you we spied many conceptual pieces, spoke with the production designer and went face to claw when Krueger's new glove was unveiled. Hell, I got to try the damn thing on, and it's
heavy
, taking some coordination to use. The man who had been carrying it home with him from work was Haley who I interviewed face-to-face in full Krueger make-up, redesigned by FX artist Andrew Clement (more on him
here
).
Haley, at the time still getting accustomed to the character, told me he wasn't letting Englund's performance as Krueger inform his take. Where he was coming from was someplace organic that began in the make-up chair.
"I'm sympathizing more and more with [
Watchmen
's
] Jeffrey Dean [Morgan], so much of what he says like, 'Now I'm living it,'"
smirked Haley whose visage will be revealed at the San Diego Comic-Con.
"He said he'd come out of that trailer as the Comedian just ready to f**kin' kill somebody. The best Freddy research and motivation I can do is sit in that torturous chair for 3 1/2 hours and I'm pretty ready to throw the glove on and start slicing into just about anybody."
The nightmare is returning to Elm Street and audiences will be able to see the film on April 16, 2010. We'll have a full set report in the near future. In the meantime, keep your eyes on
THIS SPOT
as we bring you
Nightmare
-related interviews from Comic-Con.