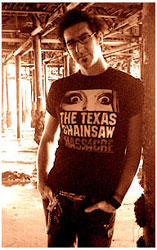 You never know what you're rallying behind when news of a film first drags itself from the never ending pit of production announcements guys like me listen for with Harry Caul-like ardor. Sometimes your intuition is dead-on. A film you've thoroughly covered via news updates, interviews and whatever else the Hollywood publicity machine bends over backwards to offer is actually, well,
pretty darn good
. There would be no balance in the universe without a few bad apples, so yes, you often find yourself pimping
bad films
, too. That's why I try to be as objective as possible from the outset when we report on a new genre offering until more details come to light, then I decide whether something is worth covering in-depth. You know, it's that editorial power I humbly sling around.
Hatchet
was one of those rare occurrences where it just felt so right to instinctively stand by it from minute one.
This little indie production leapt onto my radar two outlets ago. Before
Fangoria
. I'm not sure how the flick came to my attention; I believe it was when I discovered the website for
Ariescope Productions
. They were boasting this new film they had cookin' with Kane Hodder, Robert Englund and Tony Todd. A Jason, Freddy, Candyman three-way balled up into some slasher throwback written and directed by this guy from fellow New England resident named Adam Green. Of course, as I soon came to find out,
Hatchet
was much more than that.
The promised genre cameos is only a fraction of the kick. The film is a time capsule. Busted open by the voracious appetite of a filmmaker who suckled from the delicious '80s output of tits, gore,
Friday the 13th
, practical FX,
USA's Up All Night
and raunchy comedies. Green's slasher film feels like something seemingly placed in suspended animation twenty years ago; reawakened to inspire and remind a new generation that horror can be still be grim, super-violent, unpredictable and...what's this? Painfully fun? Hell yes!
The reason you're not getting a full review from me is because I've become best friends with the Green. Hell, we're both part of a wider group of industry horror fanatics we call "Fright Club," a troupe that attempts to gather together weekly for drinks 'n movies. I love his film and I figure the best way to lend my continued support for
Hatchet
, without looking like I took a paycheck to do it, is through a Rotten Truth where I can clear the air with the full disclosure and honestly say I have never seen a more auspicious debut from a budding filmmaker since Raimi knocked us in the skulls with
The Evil Dead
.
Back in '85 or '86,
Hatchet
would have been the sort of taboo my parents forbade me to see. The fuel for school cafeteria talk over a carton of chocolate milk and a slice of soggy pizza as we discussed the most righteous kill and the girl in the film we'd "go all the way" with (shit, I'll say it now, Joleigh Fioreavanti, hands-down). A sure-bet discreet rental viewed on a late night at a friend's house during a sleepover because there was either a.) an older brother who did the renting for us or b.) the parents of said friend didn't give a shit. There's a big smile that etches across my face when I think about
Hatchet
having that same effect on 12-year-olds today.
But you know what? The 12-year-olds today get it better than we did in the '80s. Because not only are they getting a slasher flick with generous gallons of blood and a new boogeyman - jittery, hatchet-wielding Southern killer cracker called Victor Crowley who kills naked broads and adults indiscriminately - but, by God, they get a film with plausible, even if somewhat stereotyped, characters that you actually
don't want to see die
. Well, maybe you want to see few do. Still, that's a far cry from the personality-thin dopes populating much of the "Nightmare" or "Friday" franchises. You see, Green learned from the mistakes of the past and filtered his unparalleled love for the genre through that manic brain of his for a palatable punk rock splatter cult classic in the making.
Take all that for what it's worth. But from one horror fan to another, see this film. In the theater if you can. Support a filmmaker who's truly one of us. And support a friend who, I have seen, face a fair share of battles to get his movie out there for you to experience.
For the sake of convenience, here is a list of theaters presenting
Hatchet
when it opens this Friday. See ya at the Arclight...
Austin
Alamo Drafthouse South Lamar
AMC Barton Creek 14
Baltimore
Muvico Egyptian 24
AMC White Marsh 16
AMC Owings Mills 17
Boston
AMC Boston Commons 19
National Amusements Showcase Revere 20
CFC Entertainment Cinemas Fresh Pond 10
Chicago
AMC Crestwood 18
AMC River East 21
AMC Ford City 14
AMC Barrington 30
AMC Streets of Woodfield 20
AMC Cantara 30
AMC Country Club 16
Marcus Gurnee 20
Marcus Addison 20
Detroit
AMC Fairlane 21
AMC Southfield 24
AMC Great Lakes 25
AMC Forum 30 with IMAX
Detroit DMA
MJR Southgate 24
MJR Marketplace Cinema 20
MJR Ford Wyoming Drive In Complex
El Paso
Carmike El Paso 16
Harlingen/Brownsville
Harlingen/Brownsville DMA
Cinemark 16 Harlingen,TX
Cinemark Tinseltown Mission TX
Cinemark 16 BrownsvilleTX
Cinemark Hollywood McAllen TXCarmike
20 EdinburgTX
Houston
AMC Gulf Pointe 30
AMC Studio Houston 30
AMC Deerbrook 24
AMC Willowbrook 24
Las Vegas
Brenden Palms Casino
Los Angeles
Arclight Theaters
Memphis
Malco Majestic 20
Memphis DMA
Malco Paridiso Cinema
Malco Desoto 16 Southaven
Brand Hollywood 20
Malco Towne 16
Muvico Peabody
New Orleans
AMC Palace 20
AMC Palace 16
New York
AMC Empire 25
Norfolk/Newport News
AMC Lynnhaven 18
AMC Hampton Towne Center 24
Phoenix
AMC Mesa Grande 24
AMC Deer Valley 30
AMC Westgate 20
AMC Ahwatukee 24
Harkin Arizona Mills 24
Harkins Gateway Pavilion
Harkins Superstition Luxary 25
Providence
National Amusements Providence Place 16
National Amusements Showcase Warwick Mall
National Amusements Showcase Seekonk
CFC Cinema World Lincoln Mall 16
Sacramento / Stockton / Modesto
Brenden Modesto 18
San Antonio
AMC Hueber Oaks 24
Santikos Palladium 18 and IMAX
Santikos Mayan Palace
Santikos Silverado 16
San Diego
AMC Palm Promenade 24
AMC Mission Valley 20