EXCL: Who's Creating the Wolfman?
September 6, 2007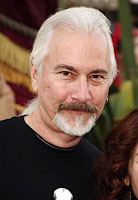 The answer is a natural choice, when you come to think of it. He's built a career on uncanny werewolf and ape FX, Eddie Murphy blockbusters and other astonishing works including
The Frighteners
and
The Ring
. Plus, he's a six-time Oscar winner. So, take that.
Yes, friends, FX maestro Rick Baker is back on lycanthrope duties.
ShockTillYouDrop.com received word from within the walls of Universal that Baker is in the prepping stages of bringing
The Wolfman
to life in Mark Romanek's remake.
Shooting begins, based on a script by Andrew Kevin Walker, this December with a November 14, 2008 release on the horizon. Benicio Del Toro is playing the cursed eponymous role made famous by Lon Chaney, Jr. in 1941.
Baker's history of lycanthropy began, of course, with
An American Werewolf in London
and continued into "Thriller" (well, what that is Jackson turns into), "Werewolf" (the TV series),
Wolf
and Wes Craven's
Cursed
.