Reaper Awards Cut into the DVD Market
Source:Ryan Rotten, Managing Editor
July 9, 2009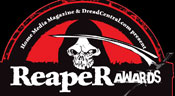 Award shows dedicated strictly to horror are far and few between. Spike TV's Scream Awards is a good time, but it stretches across various genres. Fangoria's Chainsaw Awards still thrives in the magazine only (an actual televised ceremony took place in '06). And the Saturn Awards, again, focus on non-scare fare, too. Now there's the Reaper Awards, comin' at you this October. ShockTillYouDrop.com is involved and yours truly is a participating judge with a few colleagues. Here's a press release to fill you in on the goods!
Home entertainment industry leader Home Media Magazine and the horror insiders at DreadCentral.com have partnered to present Reaper Awards 2009 – the first awards campaign dedicated entirely to horror on home video.

On October 13, 2009, at the hauntingly historic Hollywood Roosevelt Hotel, "The Grimmys" will be awarded to the best DVDs and Blu-ray Discs of the year.

"Reaper Awards is the first event of its kind to honor horror films as they are meant to be seen – raw and uncensored," says Kyra Kudick, executive producer of the Reaper Awards. "Horror filmmakers often say they enjoy the uncensored freedom of home video. It's time we celebrate the important role it has had, and continues to have, on the success of the genre."

A panel of esteemed judges from the horror community will choose nominees from 13 categories, based on the quality of the films and how they are presented on home video.

Horror experts participating as judges include: Home Media Magazine's Thomas K. Arnold, Steve "Uncle Creepy" Barton from DreadCentral.com, filmmaker Mick Garris, Brad "Mr. Disgusting" Miska of Bloody-Disgusting.com, Fangoria magazine's Anthony Timpone, ShockTillYouDrop.com's Ryan Turek aka "Ryan Rotten," Jovanka Vuckovic of Rue Morgue magazine, Staci Wilson from Horror.com and a special mystery judge to be announced.

Horror fans will have the opportunity to choose "Grimmy" winners in an online consumer vote held Sept. 1 through Oct. 1 at ReaperAwards.com.

"Grimmy" winners will be celebrated in the famed Blossom Room with a pre-show cocktail party and dinner for sponsors and invited guests, followed by an awards show featuring celebrity presenters.

For information on award submissions, categories and guidelines as well as event sponsorship, contact executive producer Kyra Kudick at (714) 338-6767 or [email protected].

Fans can also follow Reaper Awards on Twitter at Twitter.com/ReaperAwards and visit the Reaper Awards fan page on Facebook.